Tiger Society
The Tiger Society is a peer tutoring program that has been effectively implemented since the 2015-2016 school year. Students receive training on all aspects of peer tutoring. Once trained they are assigned to an individual tutee. The Tiger Society members tutor during their free periods and may also choose to tutor after school. Members also earn community service hours.
Interested students should see one of The Tiger Society advisors.
Advisors:
Mrs. Heintzelman and Mrs. Bencko
Powered by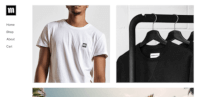 Create your own unique website with customizable templates.